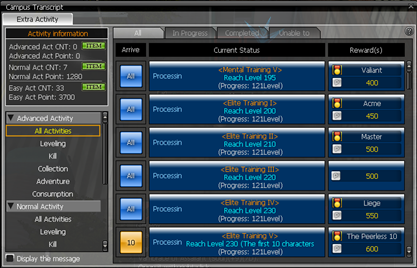 Activities are the achievements of RAN Online and can be accessed by pressing the Y button. There are various rewards which can be earned through the completion of activities. 
Types of Activity and Possible Rewards
Edit
There are three major categories of activites, which are Easy, Normal and Advanced. Within these categories you can further filter down the options into "Leveling", "Kill", "Collection", "Adventure", and "Consumption":
-Leveling activities will require you to reach a certain level (usually in groups of 10 up to 230) -Kill activities will require you to kill a certain number of monsters. -Collection requires you to obtain certain items. -Adventure requires you to go to certain maps, and -Consumption requires you to consume a certain number of items.
Completing activities will give you Activity Points and sometimes Badges, or titles. These are listed on the right of the activities themselves in the main window. Activity Points can be used to purchase certain items by clicking on the "ITEM" button on the top-left area of the screen below "Activity information". There are 3 shops (Easy, Normal, Advanced) which all independent of each other in terms of AP needed.
You can buy the rewards from the Extracurricular Activities Teacher found at each of the three campuses.
List of RAN Online Activities
Edit
Main article: List of RAN Online Activities